When Paul stood on Mars Hill in Athens and proclaimed the grace of God to the lost, he preached to a crowd of skeptics, critics, and those we might call "sophisticated eggheads."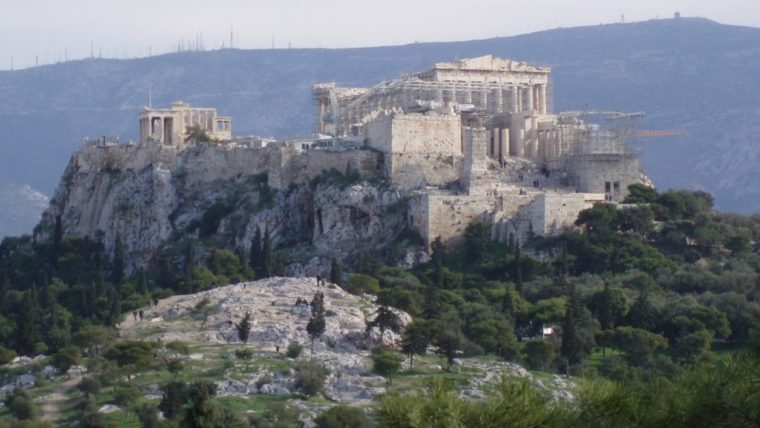 Rather than beginning with the Scriptures, Paul began with the created world in which these unbelievers lived in order to introduce Jesus to them. He began with their spiritual hunger and pointed them to Jesus as the satisfaction for their longings . . . and the payment for their sins. Paul even quoted a well-known pagan poet as a means of building a bridge between the lost and the Lord (see Acts 17:16–33).
A number of ministries have adopted for their churches what I call a "Mars Hill philosophy of ministry." Modeled after Paul's message on Mars Hill, their goal is to connect with the unbeliever, or the postmodern, or any person they would call a "seeker." In recent years the emerging church movement has attempted to "do church" (or be the church) in a new way amidst our postmodern world. Their purpose is "missional living," that is, to get involved in the world in hopes of transforming it. This style of ministry engages the culture in a "conversation" rather than preaching to people like a prophet. A wide range of theologies and strategies exist within this current movement. Some individuals hold to orthodox beliefs but have adopted very unorthodox ways of communication.
I have read of sermons that use language that would make most believers cringe . . . and cover their children's ears.
Are we to minister as those in the world?
In the World But Not Of the World
Absolutely we are to minister as those in the world. That's an answer to Jesus's own prayer for His followers (see John 17:14-16). But let's be very discerning here.
Does this mean we must minister as those of the world?
Do we have to adopt postmodern thinking to minister to the postmodern mind?
Absolutely not. Such behavior and words are not fitting in the life of a Christian (see Ephesians 5:4). They are obviously, then, not fitting in the context of worship.
No Unbelieving Subculture in the Church
Nowhere in the book of Acts or the Epistles do we see a church called to provide a subculture for unbelievers. The lost don't need to find at church a world that's like their world. We must relate to the world but not compromise biblical essentials for a church.
I need to make this clear: I don't intend to erect an "emerging" straw man and then light him on fire. I realize that in the same way our culture unfairly pigeonholes evangelicals, there is a risk of stereotyping the emerging church—or any similar movement. The danger of a broad stroke of analysis is to fail to represent everyone fairly. Or to acknowledge the exceptions.
I'm certain that not all of those who number themselves among the "tribe" of the emerging church favor liberal theology with no belief in absolutes or traditional, orthodox convictions. However, my concern is for those churches in any movement that, in an attempt to connect with the culture, actually embrace a compromise of biblical truth. Paul had the same concern as he wrote with urgency to Timothy:
I solemnly charge you in the presence of God and of Christ Jesus, who is to judge the living and the dead, and by His appearing and His kingdom: preach the word; be ready in season and out of season; reprove, rebuke, exhort, with great patience and instruction. (2 Timothy 4:1–2)
It's worth noticing that this exhortation is not addressed to the hearer; it's for the speaker. The one who is to obey this command is the one proclaiming the message.
That's you.
That's me.
That's every elder who teaches.
That's all who are called to stand and deliver.
It is to be the commitment of every church.
Before Emerging, Consider . . .
Let me urge you who are considering adopting the emerging church philosophy, or the "seeker church" strategies, to take a good look at what you are trying to do—and why.
Be sure to look at it biblically.
Be certain you can support any change you plan to implement from the Scriptures.
Don't look to Mars Hill in Acts 17 while ignoring the essentials of Acts 2:42.
Instead of searching for justification in the Bible, search and pray for direction from the biblical text. When you find it . . . follow it.
I would say the same thing to any church—including my own.
Like This? Subscribe to Our Feed!